Online Conference: Frames and Framing in Antiquity
---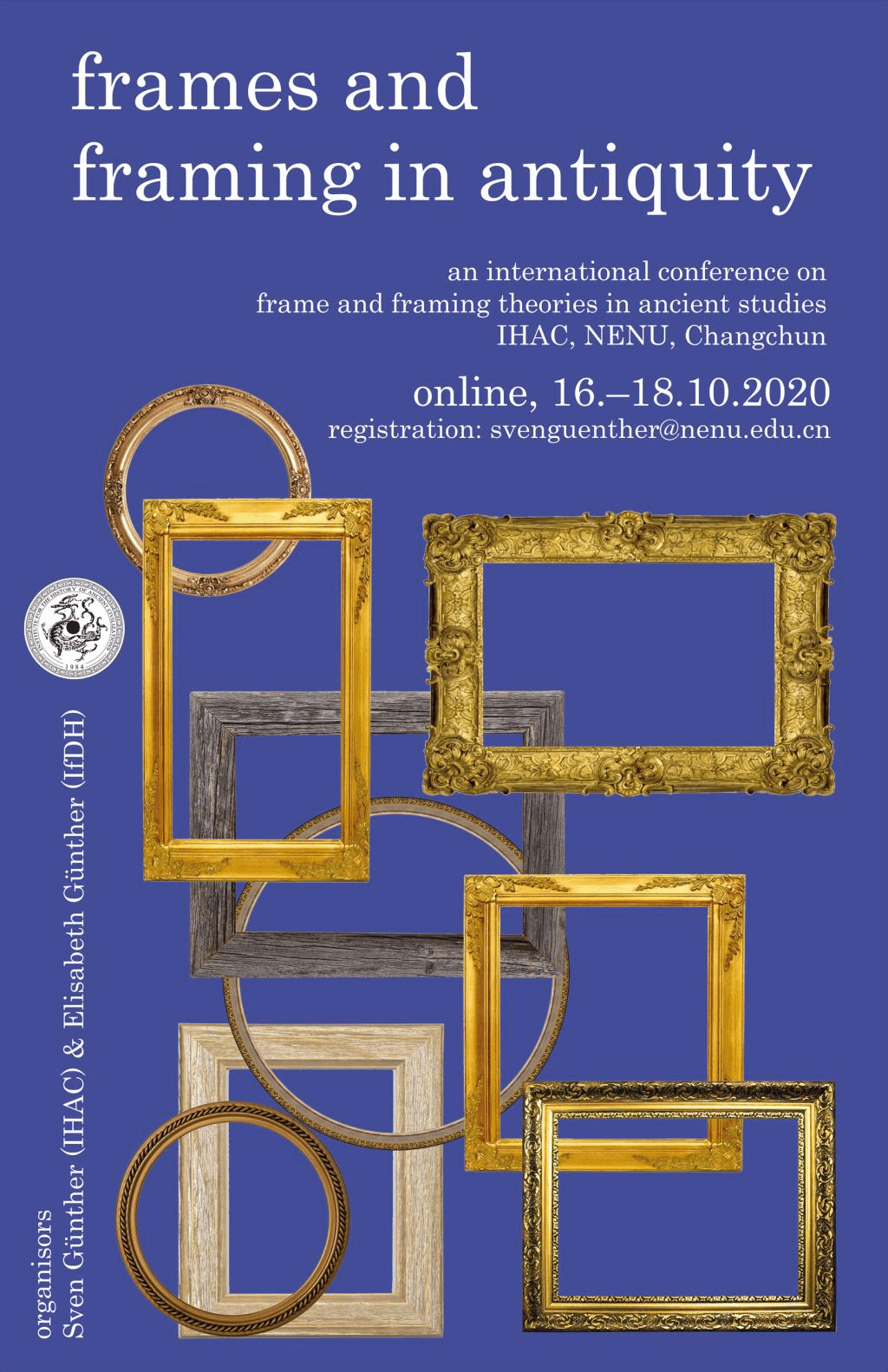 Conference: Frames and Framing in Antiquity

16-18 October 2020

Online via Zoom (all times Central European Time, i.e. UTC+2)

Registration under: Prof. Dr. Sven Günther (svenguenther@nenu.edu.cn)

Key-note speaker: Prof. Dr. Hartmut Leppin (University of Frankfurt)

Organizers: Sven Günther (Institute for the History of Ancient Civilizations, Northeast Normal University, Changchun) & Elisabeth Günther (Institute for Digital Humanities, Georg-August-Universität Göttingen)

Frames and framing have entered the public discourse already before covid-19 but have recently become a hotly debated issue due to the styling of news, for instance in social media, that partly replace other possibilities of social communication at the moment. Based on models from the field of sociology, psychology and communication studies, "frames" describe how people unterstand, react to, and are influenced by situations and activities (frame analysis). The phenomenon of "framing" assesses how individuals or institutions might use, modify, or challenge existing frameworks by creating new frames, or add new slots and fillers to common frames. Thus, the concept of framing is a useful tool for a broad range of disciplines since communication is viewed as a complex entanglement of sender, receiver and medium and their related frames and not as a one-directional process of sending information from A to B.

In recent years, frame analysis has also gained attention in the field of ancient studies, particularly in ancient history and linguistics as well as classical archaeology with a specific focus on visual studies. However, the model's full potential is yet to be exploited as it is still not comprehensively tested against the various ancient sources. Hence, the conference attempts to fill this obvious gap by assessing the theoretical tool-set as well as the application of such models to case-studies.

The dimensions of frame and framing models will be discussed in five panels, with each paper lasting 5-7 minutes followed by a respondent and an open question slot:

Panel I: From Theory to Practice
Panel II: Greek Frames and Modern Perception
Panel III: Greek and Roman Frames
Panel IV: Framing Strategies in the Late Roman Republic and Early Empire
Panel V: Framing Narratives in Archaeology

The key-note speech will be given by Professor Hartmut Leppin (University of Frankfurt) on the concept of parrhesia ("free speech") in antiquity.

We warmly welcome participants to register under: svenguenther@nenu.edu.cn (Prof. Dr. Sven Günther)to receive the link to the online platform (Zoom) and further information as well as abstracts of the conference papers.


Program (all times are Central European Time, i.e. UTC+2)
Friday, 16 October 2020
14.00-14.20: Opening and greeting words
14.20-14.45
Opening Remarks
Elisabeth Günther (Institute for Digital Humanities, University of Göttingen)
How to understand an owl in armor: frames and framings in ancient studies
14.45-16.00
Key-note Lecture
Hartmut Leppin (University of Frankfurt)
Parrhesía and the framing of expectations in the social worlds of antiquity
Saturday, 17 October 2020
Panel I: From Theory to Practice
8.30-9.00
Sven Günther (IHAC, NENU, Changchun)
Frames and framing theory avant la lettre? Johann Gustav Droysen's Historik and the future of ancient studies
9.00-9.30
Martina Sauer (Institute of Image and Cultural Philosophy, Bühl)
Promise of happiness, security and community − frames and framing in a new light
Respondents: Ben White (Günther), Elisabeth Günther (Sauer)
Panel II: Greek Frames and Modern Perception
9.45-10.15
Riccarda Schmid (University of Zurich)
Frames and framing in Attic rhetoric
10.15-10.45
Sven-Philipp Brandt (Special Collection "Amploniana", University of Erfurt)
Sustainability as a framework? The concept of αὐτάρκεια in late classical Athens
10.45-11.15

Jelle Stoop (Brussels / University of Sydney)
Taste in early Greek poetry: production versus consumption

11.15-11.45
Guendalina Taietti (University of Liverpool)
Framing the Macedonians, becoming Greek: on the importance of Ancient Macedon in the nation-making of the Hellenic state
Respondents: Guo Zilong (Schmid), Sven Günther (Brandt & Taietti)
Panel III: Greek and Roman Frames
13.30-14.00
Hendrikus A.M. van Wijlick (Peking University)
Re-framing friendship in the late Republic and early Principate: the personification of φίλος-epithets
14.00-14.30
Guo Zilong (IHAC, NENU, Changchun)
Framing the Delphic oracle, institutionalizing the Olympian Games: a case study on Phlegon of Tralles's Olympiads (FGrH 257 F 1)
14.30-15.00
Xu Zhenhuang (IHAC, NENU, Changchun)
Framing accusations against prosecutors: multi-level images of delatores in the 1st and 2nd century AD
Respondents: Sven Günther (van Wijlick & Guo Zilong), Francesco Ginelli (Xu Zhenhuang)
Sunday, 18 October 2020
Panel IV: Framing Strategies in the Late Roman Republic and Early Empire
9.00-9.30
Jan Lukas Horneff (TU Dresden)
How to treat cunnilingus – Framing in Apuleius' Apologia
9.30-10.00
Zhang Hongxia (IHAC, NENU, Changchun)
From Chinese perspective: frame and framing theory, Cicero's Pro Cluentio, and Chinese modes of perception
10.00-10.30
Francesco Ginelli (Università degli Studi di Verona)
«...rem publicam a domination factionis oppressam in libertatem vindicavi». Frame analysis, ancient life writing, and political propaganda
Respondents: Hendrikus van Wijlick (Horneff & Zhang Hongxia), Elisabeth Günther (Ginelli)
Panel V: Framing Narratives in Archaeology
13.30-14.00
Amy Smith (Curator, Ure Museum of Greek Archaeology / Department of Classics, Reading)
Unpeeling the Pan Painter's pictures
14.00-14.30
Ben White (University of Nottingham)
Porticus, keys, and brackets: towards a Goffmanian framework for exploring the colonnades of ancient Rome
Respondents: Martina Sauer (Smith), Amy Smith (White)
14.30-15.00
Final Discussion


An abstract you can find below:

Program-Frame_and_Framing.pdf

Abstracts-Frame_and_Framing.pdf